My recent visit to India earlier this month was full of pleasant surprises, one of which is the topic of this post. I was visiting my parents in Vadodara, Gujarat. For those unfamiliar with India, Vadodara is a tier-3 city in the state of Gujarat, with a population of 1.8 million.


Indian taxis - the past, and the present
Upon reaching Vadodara airport, I wanted to take a taxi. Those familiar with the local travel scene in small-town India would probably know that taxi service as we know it -- in the form of sedan cars -- is non-existent in India outside the metros. What we have instead is its small-town avatar, a motorized tricycle, called auto rikshaw. They seat three people and have little room for a suitcase or any bulky item. As a result for the travelers with luggage, car taxis are available at the airport and railway stations in most cities, including Vadodara.


No patience for haggling
A rental car booth was in the baggage collection area of the airport. I casually inquired, and was told that the charge for a drop anywhere in the city was five hundred rupees. Reckoning that the price was too steep, I decided to try my luck outside. As soon as I came out, a swarm of drivers surrounded me; twelve, fifteen of them. It was seven am and mid-summer sun was out, morning was already warm. The offers started at five hundred rupees. I could have haggled and brought the price down, but I was too tired, having spent the previous night at Mumbai airport. I was willing to take one, anyone, but it was impossible for me to talk to a single person without creating a scene. One man was trying to snatch my suitcase, another tugged at my backpack, a third pulled my sleeve. I braced myself, ran back into the arrival hall, and booked a taxi from the travel counter.
Now...Taxis in majority of Indian cities, or the "auto rikshaw," look like this
The future of taxis?
That evening I was recounting the incident to my friend who has settled in Vadodara after a stint overseas. "Next time, try Olacab," he said. And thus I was introduced to India's latest online revolution.
The next day when I had to go out, I tried Olacab. I called the Olacab hotline number my friend had given to me. I was surprised when the operator told me that I can book a taxi only through their smartphone App. It was a minor irritant, but I managed to download the app and book a cab without much trouble. The driver called me half an hour before the time I needed the taxi, and he was at our gate in time. His car was brand new; like any new car owner in Vadodara, he had not even taken the plastic wrapping off the seats. The aircon worked even in the blazing heat of Vadodara summer, where outside temperature was 43 degrees. When I reached my destination, the bill was about a hundred rupees. An auto rikshaw would have charged only slightly less, and that too after minutes of haggling. I was so overjoyed I wanted to hug the driver.
I had about one hour's work and after this amazing experience, I didn't want to go back home in a rikshaw, so I decided to pay one rupee a minute waiting charge and hold my Olacab.


But... do the economics make sense?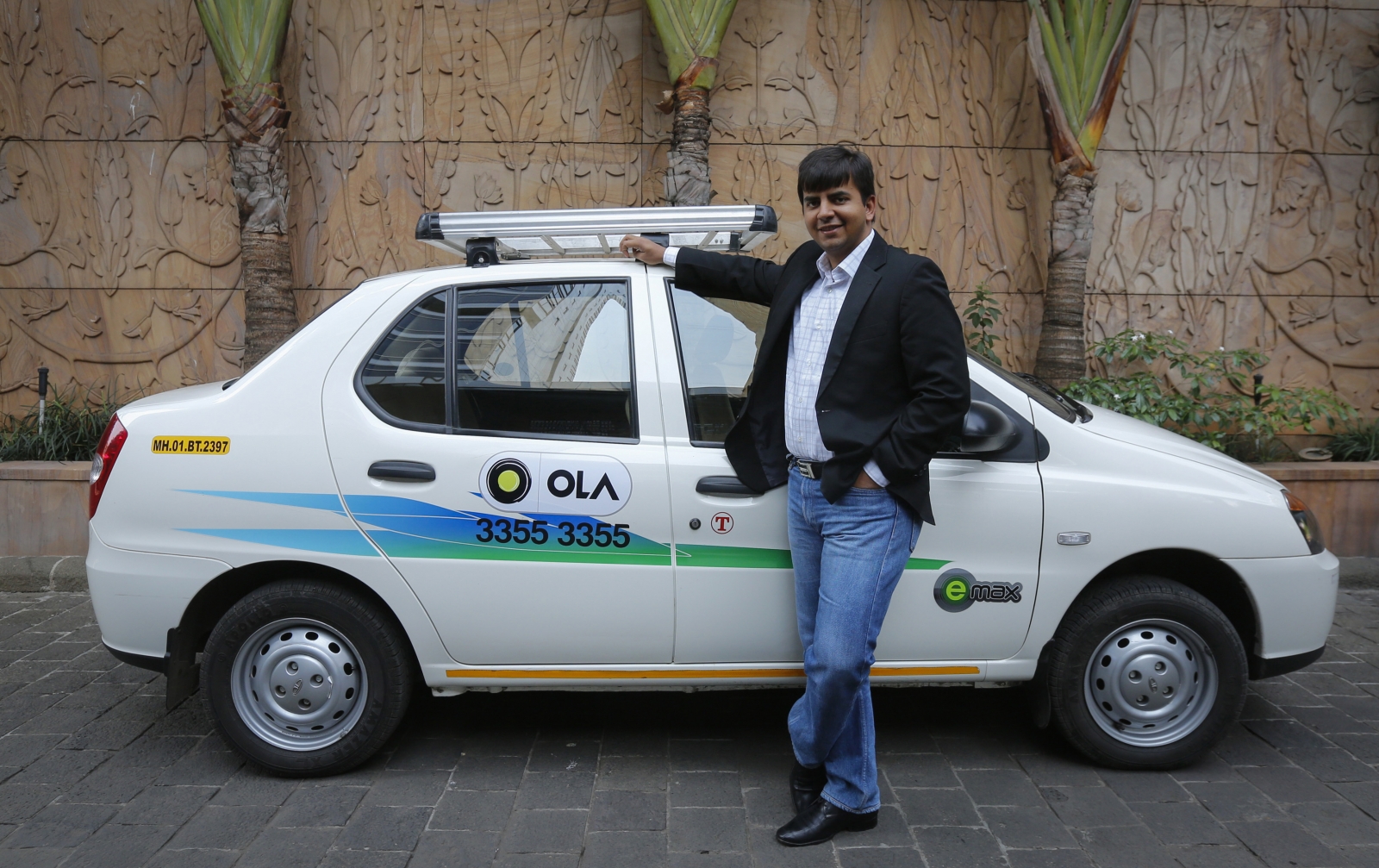 The Future of taxis in India? (Bhavish Aggarwal, CEO and co-founder of Ola in front of an Olacab)
On the way back, what I learned from the driver really amazed me.
In the last six months, three taxi calling services have launched in Vadodara, and Uber is expected to launch soon. When Olacabs launched their services in the city, they had one hundred and fifty cabs on contract. For the first six months, they gave one thousand rupees per day to each driver as a handout, irrespective of the fares they got. For the first six months, in Vadodara alone, they burned twenty seven million rupees. Later, they changed that to four hundred rupees after every ten rides and seventy drivers from the original of one fifty . My driver told me he usually gets more than ten rides in a day. So as I write, the company is still burning close to one million rupees a month in Vadodara alone.
In addition, the company also spent money on promotion to the consumers: a bonus of rupees fifty to hundred upon downloading the app, fifty rupees off on the first ride, etc. I learned through online articles and blog posts that in bigger cities, their handouts to drivers are even larger and could be as high as two thousand rupees per day.
So, how much money could they have burned to date? Probably only the insiders and existing investors are privy to this figure, but given that they have launched services in eighty eight cities now, a simplistic back-of-the envelope calculation would suggest about three billion rupees (US$46 million) only in handouts to drivers, taking Vadodara as the average! If anything, this figure is likely to be an underestimate, since their payments to the drivers are higher in the metros and bigger cities.


Small change
Why is Olacabs in such a tearing hurry to expand, one may ask? The only answer could be that they are in a land-grab mode, and want to preempt the rivals, especially the bigger and better funded Uber. I believe with its current expansion spree, it could be years before Olacabs makes money. And I do wish them luck and hope that they succeed, because I love what they are doing to the taxi scene in India.

In the mean time, consumer is the real winner. As long as I was in India, I gave auto rikshaws a break, and traveled everywhere by Olacabs. I also took an Olacab on the way back to the airport. It cost me only a hundred and forty rupees.
Before leaving India, I did two things. One, I bought my father a smartphone. I ordered it on flipkart; it cost me twenty percent cheaper than buying from the local phone dealer. Two, I downloaded Olacabs app on his new smartphone.